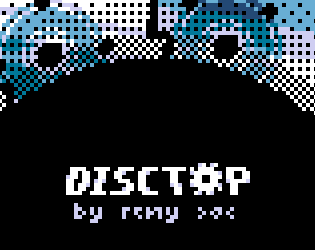 DISCTOP
A downloadable game for Windows
You can play while you work!
You can play while your pretend to work!
You can play while you play something else!!
Please have some deadly, deadly desktop pets!
It plays with the mouse!
You can access the menu anytime by middle-clicking! (do it again if you're still clicking through the game)
You can exit the menu by left-clicking anywhere else on the screen.
SFX are free assets courtesy of Doseone for DiscRoom GameJam!
Fonts used are Torch and Agenda by Eeve Somepx!
This game was made under the kind patronage of these beautiful people:
Blas, Joseph White, rotatetranslate, Anne Le Clech, bbsamurai, Paul Nguyen, Dan Lewis, Dan Rees-Jones, Joel Jorgensen, Marty Kovach, Flo Devaux, berkfrei, Jearl, Elias Alonso, Raphael Gaschignard, Eiyeron, Eliott, Sam Loeschen, amy, Cole Smith, Simon Stålhandske, slono, Gruber, Pierre B., Sean S. LeBlanc, vaporstack, Jakub Wasilewski, Sine Nomine, Éric A, Andrew Woods, XHXIAIEIN, Andrew Reitano, Qristy Overton, Marcin Majewski, Amy Mack, Michael O'Brien, Forrest Oliphant, Jacel the Thing, Sloth-like Man, Dylan Bennett (MBoffin), daniel hengels, scitydreamer, Paul Nicholas, Moritz Rebbert, Danny Wynne, Zach Bracken, Tim Swast, MW
Thank you!
Patch notes:

v1.0b
Fixed an error where the game could crash on start
Added an icon for the executable
v1.0a
Made rendering to screen use CPU (actually faster, less resource intensive, and probably won't switch on your computer fans anymore)
Used slightly better optimization for compilation
Download
Click download now to get access to the following files:
Comments
Log in with itch.io to leave a comment.
The code execution cannot proceed because SDL2_mixer.dll was not found. Reinstalling the program may fix this problem.
It's fun but is there a way to change the menu hotkey? i'm trying to use it while making a game in godot engine and it uses middle click a lot
Thanks! Sadly no there isn't, or at least not yet. I don't currently have a quick way to change it to something more practical. But maybe in the future as I get more progress done on the engine.
What When This Disktops Touch my Cursor?
The timer stops and registers your time as a new score, and that's it. New discs appear and the timer restarts for more Disctop fun :)
I can't download it, there is another way?
I'm sorry, what is the issue? You should be able to download it from the game page, is that not working for you?
its pretty fun! but i need to know what does it mean when the saw blades turn gold? is there any more blade colors?
Thanks! It's because you're beating your highscore on that difficulty! No there are no other blade colors after gold 😅
now i know how to get rid of the goose once and for all
This is my favorite of the jam! I love that you can bat around the timer, I love the aesthetic, it's such a perfect, tiny, little nugget of a game. If that makes any sense. What engine is was this made in? How did you even program this?
Thanks for the kind words, I'm glad you liked it! I made it with a game engine I've been making myself, called Sugar. The engine itself is written in C++, so I just had to use the windows headers to make the game's window behave how I wanted. Sugar is still in development and not available anywhere yet, but this is the first program I released that was made with it. :)