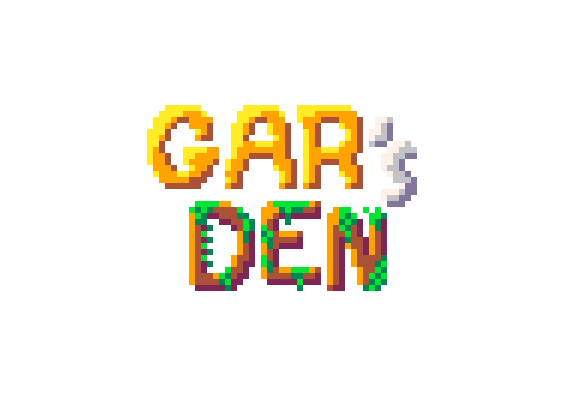 (please note: you can eat the fruits to heal yourself)
Will you enter the dungeon? Will you survive? Will you make fat stacks of $? Will you transform Gar's Den into Player's Den???
Here's what's on the dungeon's pamphlet:
Enter Gar's lair
Destroy his minions
Meet the shopkeeper
Plant your garden
???
Profit
(???
Kill Gar)
Controls:
[o]/z ~ action + slash

[x]/x ~ inventory navigation (hold, then use arrows)

[arrow keys] ~ move around
This is my entry to the 7 Days Roguelike Challenge! Or at least it would be if I actually had done it in 7 days. I took 14 days instead. (a third of it was spent on saving Pico-8 tokens)
Still a pretty big project for 14 days! I hope you enjoy it! Please report bugs if you find any. If you think the pacing of the game is off, also tell, I may do a fix for that in the next few days.
If you like it, please consider supporting me by donating here on Itch.io or on my Patreon! Plus if you support me on Patreon, you get access to cool articles about underrated coding techniques! :)
Download
Click download now to get access to the following files:
Comments
Log in with your itch.io account to leave a comment.
Excellent job, I really enjoy your pico8 style
It's a fun game but holy crap looking at this game makes my eyes hurt.
That being said, it's impressive you could make this game within Pico8.
Hi! Can you tell me more about this please? Is it the background hurting your eyes or the low resolution or maybe the colors? Or the combinaison of all three? Do you maybe have an idea of a solution that would not hurt your eyes?
Thank you for the praise. :X
Just finnished it and it weas good : D
Curious, was there an update? If so, what's changed?
what should i do with garsden.p8 file?
You can run it in Pico-8, same as garsden.p8.png . The only difference is that people who don't own the Pico-8 can take a look at the code with any text editor if they want to. :)